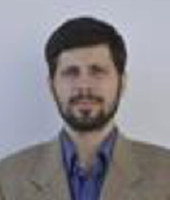 Gradul didactic/Funcția de cercetare
Departamentul de Design de Produs, Mecatronică și Mediu
Facultatea de Design de Produs
Contact:
B-dul Eroilor, nr. 29, Brașov, Romania
Corp G, sala GI7
Tel./Fax: +40 268 473113
E-mail: bogdan.burduhos@unitbv.ro
Descarcă CV
Interese
de
cercetare:
sisteme fotovoltaice,
sisteme hibride,
sisteme de energii regenerabile,
BEMS,
Publicații:
Burduhos B.G, Duță A., Moldovan M.D., The Role of energy management systems in nZEB and nZEC, Springer Proceedings in Energy: Nearly Zero Energy Communities, CSE 2017, Springer, Cham, Print ISBN 978-3-319-63214-8, Online ISBN 978-3-319-63215-5, DOI: 10.1007/978-3-319-63215-5_4, 2018.
Ion Vișa, Burduhos B.G., Neagoe M., Moldovan M.D., Duță A., Comparative analysis of the infield response of five types of photovoltaic modules, Renewable Energy, 95, pg. 178-190, 2016.
Burduhos B.G., Neagoe M., Duță A., Adaptive stepwise orientation algorithm for non-concentrated dual-axis solar tracking systems, 14th World Congress in Mechanism and Machine Science, Taipei, Taiwan, 25-30 October, 2015, paper nr. OS16.006, DOI: 10.6567/IFToMM.14TH.WC.OS16.006
Burduhos B.G., Vișa I., Neagoe M., Badea M.: Modeling and optimization of the global solar irradiance collecting efficiency, International Journal of Green Energy, 12 (7), pg. 743-755, DOI:10.1080/15435075.2014.884499, 2015.
Burduhos B.G., Moldovan M.D., Controlul sistemelor de energii regenerabile, Editura Universității Transilvania, Brașov, ISBN 978-606-19-0731-1, 2016.