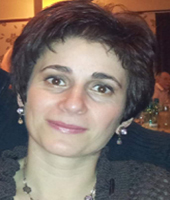 Sef lucr. dr. ing.
Departamentul Design de Produs, Mecatronică și Mediu
Facultatea Design de Produs și Mediu
Contact:
str. Universității nr.1, Braşov, Brașov, Romania
Corp G, sala GI6
Tel./Fax: + +40 268 473113
E-mail: ncretescu@unitbv.ro
Interese
de
cercetare:
Mectronica si Robotica,
Sisteme de Energii Regenerabile.
Publicații
(selecție)
Neagoe, M., Visa, I., Cretescu, N., Moldovan, M. On a New Parallel Tracking System for Accurate Orientation of Concentrated Solar Convertors, Applied Mechanics and Materials Vol. 658 (2014) pp 105-110, Trans Tech Publications, Switzerland, doi:10.4028/www.scientific.net/AMM.658.105.
Cretescu, N., Neagoe, M., Saulescu, R. Kinematic and Dynamic Analysis of a 4DOF Parallel Robot with Flexible Links, Proceedings of The Joint International Conference of the XII International Conference on Mechanisms and Mechanical Transmissions (MTM) and the XXIII International Conference on Robotics (Robotics '16), Aachen, 26-27 October 2016, New Advances in Mechanisms, Mechanical Transmissions and Robotics, Editors Burkhard Corves, Erwin-Christian Lovasz, Mathias Husing, Inocentiu Maniu, Corina Gruescu, Ed. Springer, pp. 473-481, ISBN 978-3-319-45449-8, Mechanisms and Machine Science 46, DOI 10.1007/978-3-319-45450-4_48 (ISI Proceedings).
Neagoe, M., Visa, I., Duta, A., Cretescu, N. A New Approach on the Protection Against Overheating of Flat Plate Solar-Thermal Collectors, Proceedings of the Conference for Sustainable Energy (CSE) 2017, Brasov, 19-21 October 2017, Nearly Zero Energy Communities, Editors Ion Visa and Anca Duta, Ed. Springer, pp. 283-295, ISBN 978-3-319-63214-8, Springer Proceedings in Energy, DOI 10.1007/978-3-319-63215-5_21.