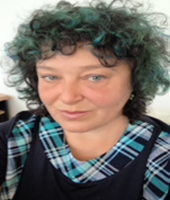 Profesor universitar
Departamentul de Design, Mecatronică și Mediu
Facultatea Design de Produs și Mediu
Contact:
Str. Universității nr. 1, Brașov, Romania
Corp F, sala FI7
Tel./Fax: +40 268 473113
E-mail: isac.luminita@unitbv.ro
Descarcă CV
Interese
de
cercetare:
materiale semiconductoare nanostructurate (sulfuri, oxizi) pentru sisteme active în procesele de conversie a energiei solare (fotocatalizatori, celule solare in stare solidă, straturi absorbante pentru colectoarele solar termice), sub formă de straturi subțiri sau sisteme disperse
Publicații
(selecție)
Isac, L., Panait, R., Enesca, A., Bogatu, C., Perniu, D., Duta, A. (2017). Development of Black and Red Absorber Coatings for Solar Thermal Collectors In: I. Visa, A. Duta (Eds.), Nearly Zero Energy Communities, Springer International Publishing Switzerland.
Isac, L., Nicoara, L., Panait, R., Enesca, A., Perniu, D., Duta, A. (2017). Alumina matrix with controlled morphology for colored spectrally selective coatings, Environmental Engineering and Management Journal, 16(3), 715-724.
Enesca, A., Baneto, M., Perniu, D., Isac, L., Bogatu, C., Duta, A. (2016). Solar-activated tandem thin films based on CuInS2, TiO2 and SnO2 in optimized wastewater treatment processes, Applied Catalysis B: Environmental, 186, 69-76. doi: 10.1016/j.apcatb.2015.12.053
Andronic, L., Isac, L, Miralles-Cuevas, Sara, et al.(2016). Pilot-plant evaluation of TiO2 and TiO2-based hybrid photocatalysts for solar treatment of polluted water, Journal of Hazardous Materials, 320, 469-478.doi: 10.1016/j.jhazmat.2016.08.013
Isac, L., Cazan C. (2015) Engineering Materials for Industrial Product design. Metallic and Polymeric Materials, Editura Universității Transilvania din Brașov.