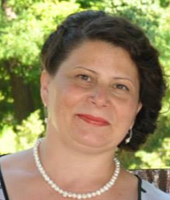 Șef lucrări dr.
Departamentul Design de produs, Mecatronică și Mediu
Facultatea Design de Produs și Mediu
Contact:
str. Universității nr.1 Braşov 500068 România
Corp D, sala DII4
Tel./Fax: + 40 268 473113
E-mail: anca.stanciu@unitbv.ro
Descarcă CV
Interese
de
cercetare:
Mecanica aplicata,
materiale compozite,
element finit
Publicații
Diana Cotoros, Anca Stanciu, Cornel Druga, Statistical Analysis of Forces Developed by Fingers, 2017, IEEE EHB 2017 Conference, Sinaia, 22-24 June
Stanciu A., Cotoros D., Cristea L., Baritz M., Determination of stress and strains of a composite tank used for liquid medical products, Optoelectronics and Advanced Materials, 2015, vol. 17, nr. 7-8, 1146 – 1151, ISSN: 1937-7375
Stanciu A.E., Teodorescu-Draghicescu H., Vlase S., Scutaru L., Calin M.R., Mechanical Behavior of CSM450 and RT800 Laminates Subjected to FourPoint Bend Tests, OPTOELECTRONICS and Advanced Materials-Rapid Communications Monthly, 2012, 495-497, ISSN: 1842-6573.
Stanciu Anca Elena, (2013), Materiale compozite din fibră de sticlă- aplicaţii, metode şi optimizare, Editura Universităţii Transilvania, Braşov, ISBN 978-606-19-0288-0.